The SCJTL Competition Squad USTA Team is a competition team tennis experience in the USTA Regional and Elite Junior Team Tennis (JTT) program, designed for success in USTA Regional, Sectional competition.
SCJTL USTA team competition includes USTA regional tournaments and League matches arranged with USTA JTT teams and tennis club teams in Suffolk County.
Team practices and matches provide valuable competition experiences.Team practices include singles and doubles tactics, team work, competition prep, and Coach coordination.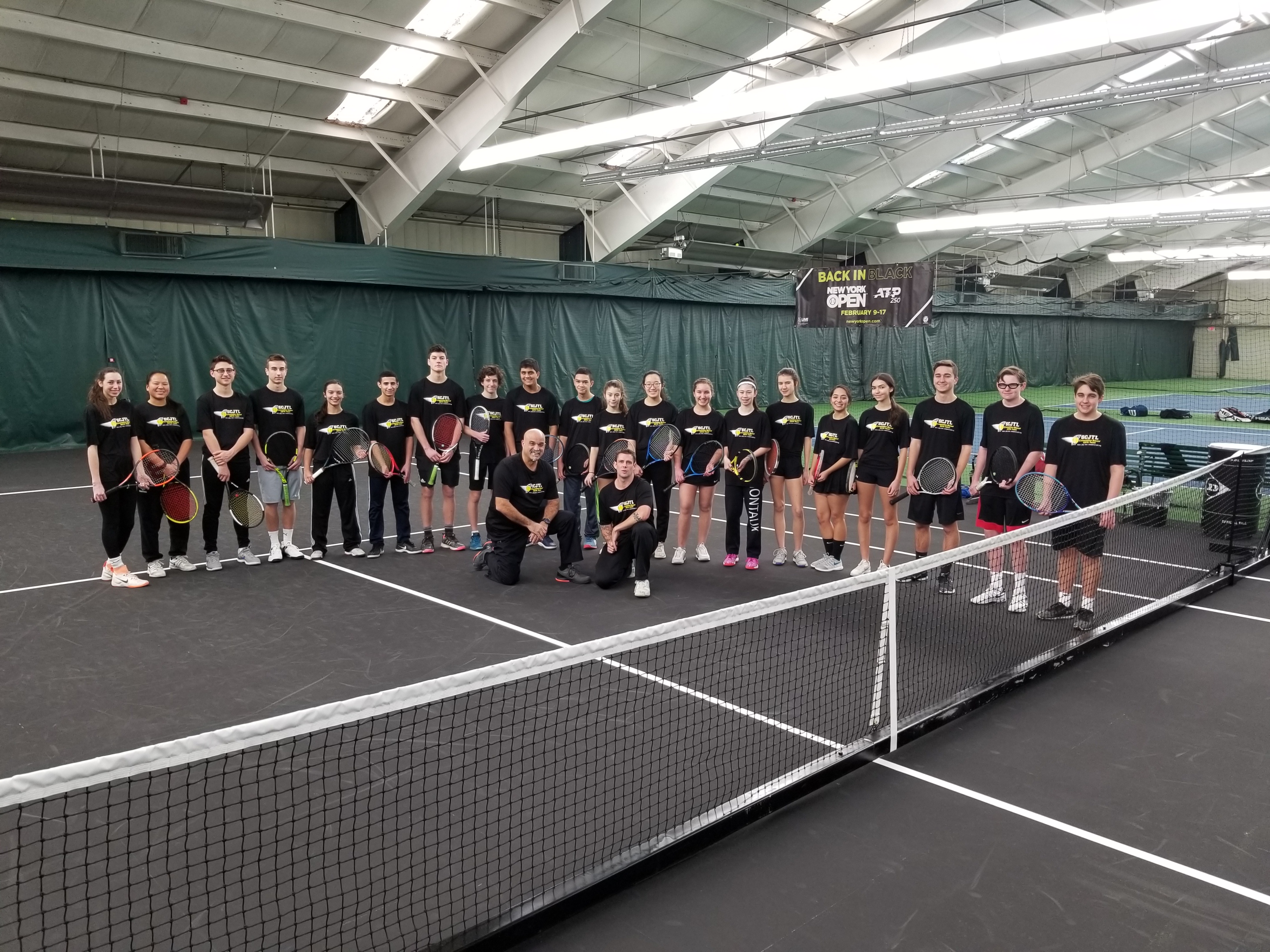 The 2020 USTA JTT season:
JTT Open Series Team Tournaments:
Up to 3 tournaments for registered USTA JTT teams will be held starting February 2020 culminating with the Long Island Regional in May.
USTA Team 2020 Schedule
SCJTL USTA JTT teams to be formed for 2018-19 USTA JTT Competition.
Three teams formed to date. No positions open.
Practice 1: TBD
Day: TBD
Date:TBD
Time: TBD
Location:Sportime Kings Park
Note: refer to info sent to team.
----------------------------------------
Practice 2: TBD
Day: TBD
Date:TBD
Time: TBD
Location:TBD
Note: refer to info sent to team.
USTA Team Match Announcements
2020 USTA Junior Team Tennis Championship Season*
USTA JTT Tournament 1: USTA JTT Winter Chps.*
Day: Sunday
Date: TBD
Time: 3:00 pm to 7:00 pm
Location:TBD
*Under Development. Date and time info to be finalized.
Match Fee: Included in SCJTL JTT program package.
Note: Required.

USTA JTT Tournament 2: L.I.Spring JTT Challenge
Day:TBD
Date: Date TBD, April 2020
Time: TBD
USTA JTT Tournament 3: USTA JTT L. I. Regional Championships
Day: TBD
Date: TBD May 2020
Time: TBD
*Schedules subject to change
-----------------------
About the SCJTL Competition Squad USTA Team:
USTA Junior Team Tennis (JTT) brings kids together in teams to play singles, doubles and mixed doubles against other teams. It promotes social skills and important values by fostering a spirit of cooperation and unity, as well as individual self-growth. Also, it's a fun environment for kids in which they learn that succeeding is really more about how they play the game – win or lose
SCJTL USTA Team:
Boys and Girls 18+Under, Intermediate and Advanced Levels.
Number of players needed.: 8 per team Maximum - 4 boys and 4 girls
Matches and Competitions:

Matches may be scheduled between registered USTA JTT teams on Long Island.
Competition season includes organized team tournaments on Long Island and optional team matches arranged with other registered USTA Junior team tennis teams before the Long Island Regional Championship.
USTA JTT competition results count towards Universal Tennis Rating (UTR).

Practices
Practices sessions are held indoors or outdoors depending on tournament scheduling.
Practice Session Locations:
Indoor practices take place at Sportime Kings Park.
Practice mini-sessions may be scheduled during PCTeam sessions. Comp Squad Team members would be required to attend session designated for practice.
Outdoor practices take place at the SCJTL Training Center - Commack.

Program Fees:

USTA Team Fees:
One-Time Seasonal Team Registration Fee: $65
SCJTL Competition Squad USTA Team shirt included.
Membership in all JTT event for calendar year September through August.

Team season package = $350
Includes: Team practices and USTA JTT Team tournaments including the
L.I. Regional Championship.
Additional Match fees (if needed) : $50 - $60 - Sectional Competition fees not included.
Includes mandatory team practices(3) and (3) JTT Long Island team Tournaments .
Practice fees will be requested for additional separate practice sessions if necessary.
Match fees for inter club competition may vary depending on the court charges from other clubs.
Sectional competition fees will be based on court and staffing expenses explained before team commits to attend.
Registered members of the JTT Squad must commit attend all team practices, JTT League Tournaments, and the LI Regional Championship.

Each player must play a minimum of 3 sanctioned league matches to qualify for Regionals.

Schedule of matches will be provided.

Registration for sectional/national events will be offered early enough in the event team qualifies so players may decide whether or not to commit to sectional/national play.

Players willing to commit to the most amount of matches and competitions will receive priority consideration to be on the team.
Player Eligibility:
Skill and experience level: Players should have a minimum UTR 5. SCJTL Skill Level: 45+
All participants must be USTA junior members.
USTA member numbers are needed to register the teams.
To join the USTA click: http://membership.usta.com/section/Individual-Family-Memberships/101.uts
Age qualifications: Player must be within the age group during regional, sectional and national competition. The monthly range used for age qualification is May thru August.
Player Qualifications:
Offered to PCTeam programs Members first.
Boys and Girls ages 13 to 18.
Middle School, Junior Varsity and Varsity tennis teams experience.
UTR 3 to 5+
USTA Regional Level 3 and Sectional Level 2 and 1 tournament players.
SCJTL White and Blue Division level players.
SCJTL Skill Level rating: 45+.
Tryout and/or registration approval by SCJTL required.
Not sure or have a question about eligibility? Email SCJTL

COACHING STAFF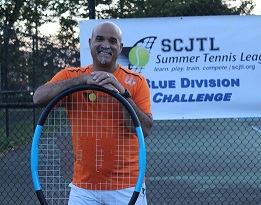 Head Coach: Joe Arias:
SCJTL Founder - Executive Director - USTA National High Performance Coach
COMP SQUAD TEAM TRAINING RESOURCES
Used in Conjunction with Comp Squad USTA Team on court training session.
Downloads and videos supporting SCJTL USTA Team training themes.
SCJTL Competition Squad Training Site
Visit the SCJTL Comp Squad USTA Team on

USTA Junior Team Tennis National web site.
2019 SCJTL Comp Squad USTA Teams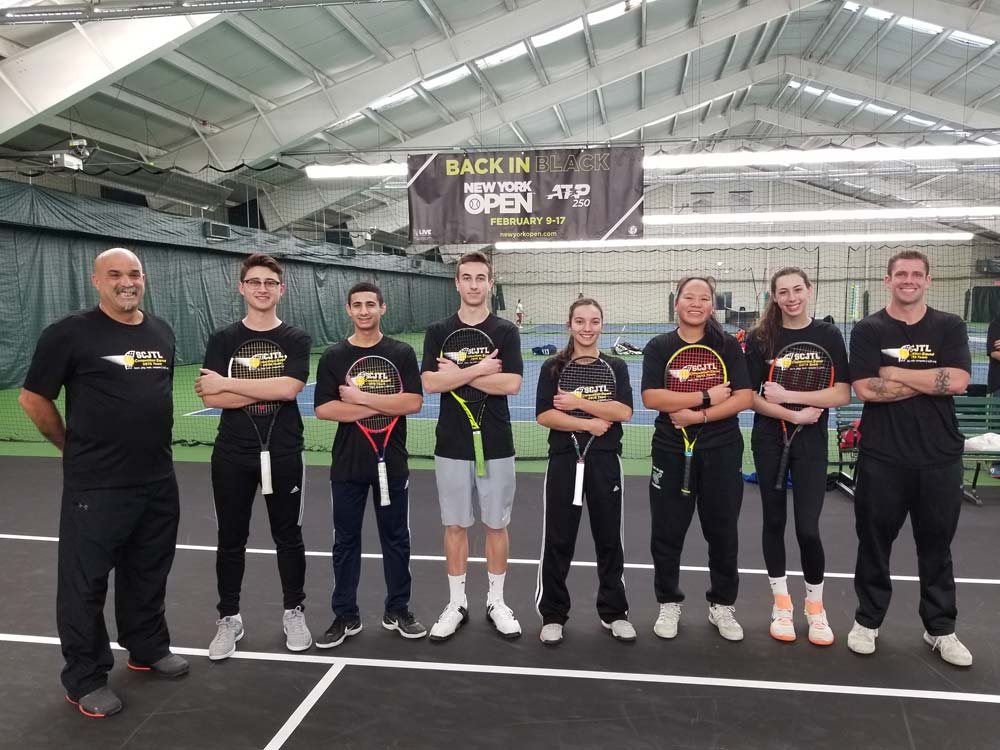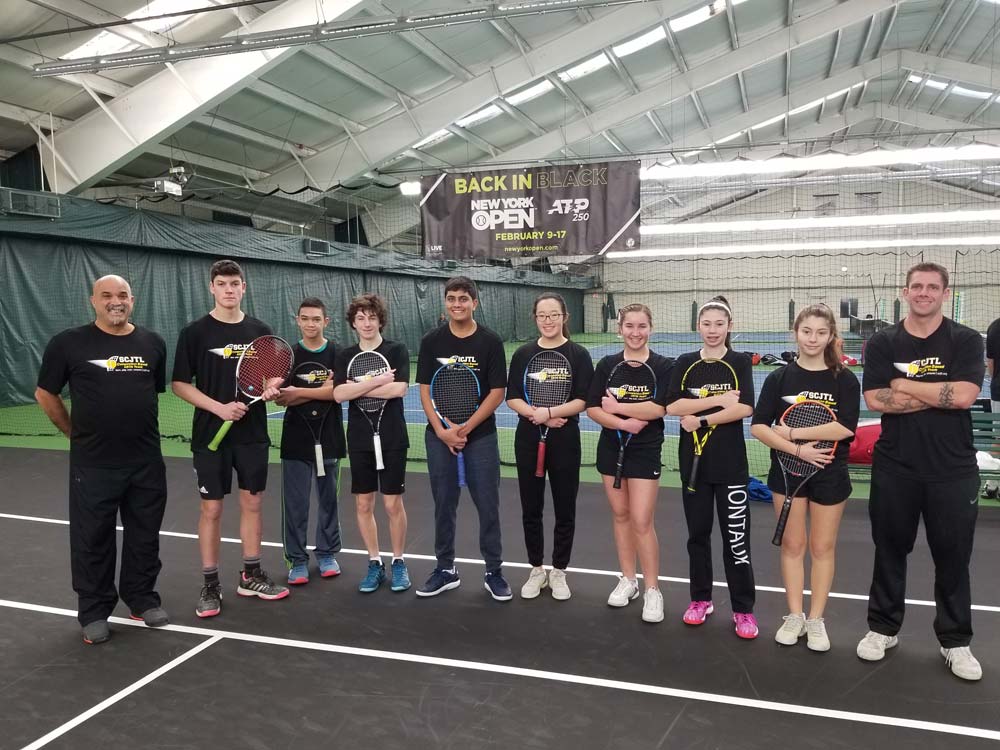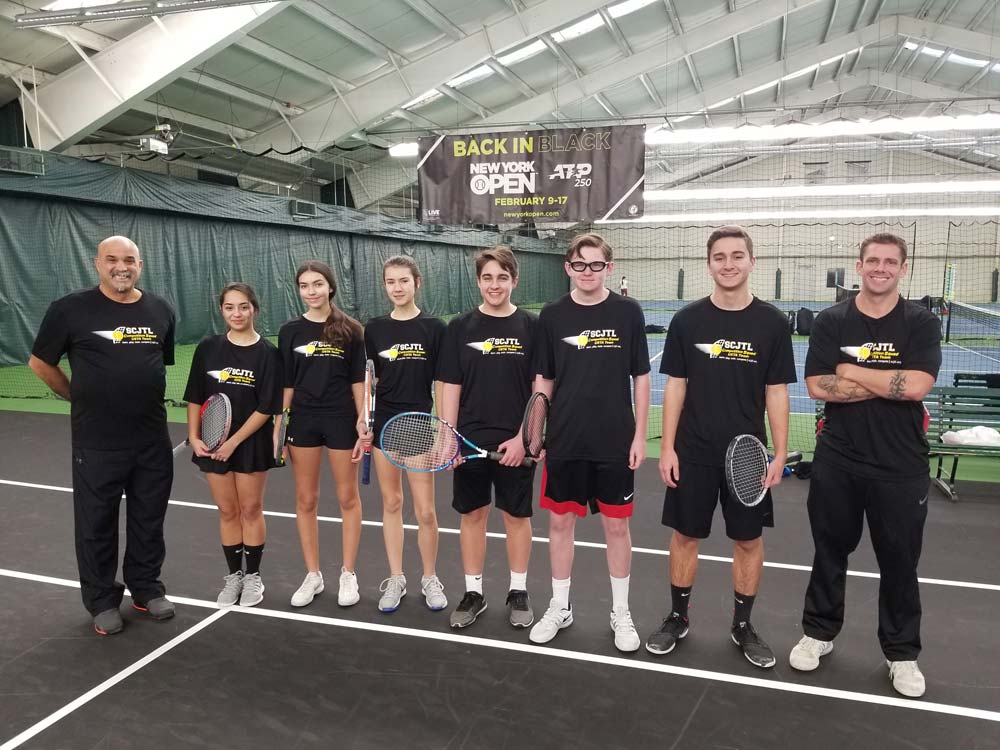 3 SCJTL 18U Regional teams and 1 Elite team competed in
USTA JTT LI Regional and Elite competition.
JTT Tournament 1: New York Open USTA JTT Chps.
Held: February 10. 2019.
Team 1: 1st Place - Team 2: 3rd Place - Team 3: 4th Place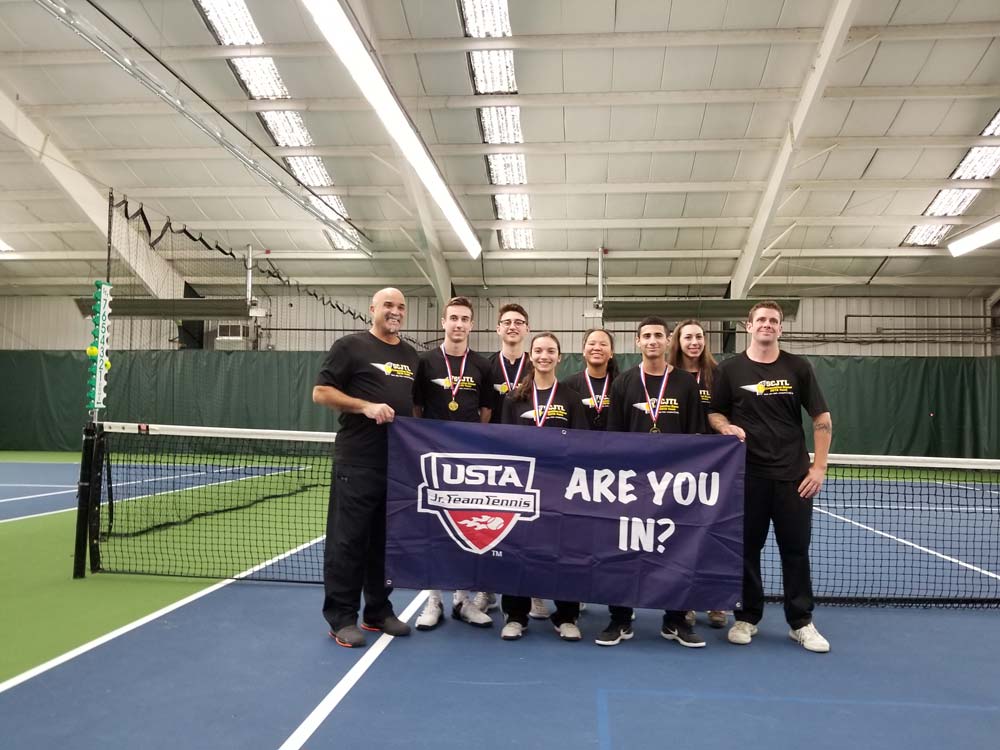 Recognized at the 2019 New York Open.

JTT Tournament 2: 2019 USTA JTT Spring Chps.
Held: April 10. 2019.
Team 1: 2nd Place - Team 2: 3rd Place - Team 3: 4th Place
JTT Tournament 3: 2019 USTA JTT L.I. Regional Championship
Held: April 10. 2019.
Team 2: 2nd Place - Team 1: 3rd Place - Team 3: 5th Place
SCJTL Competition Squad Elite USTA team
Inter-Regional Competition:
USTA organized team tournament competition between advanced level JTT teams from Long Island, Metro (NYC) Westchester, and New Jersey regions.
SCJTL Competition Squad Elite JTT Team competed in first ever USTA JTT Elite League,

2017 SCJTL USTA 18U Team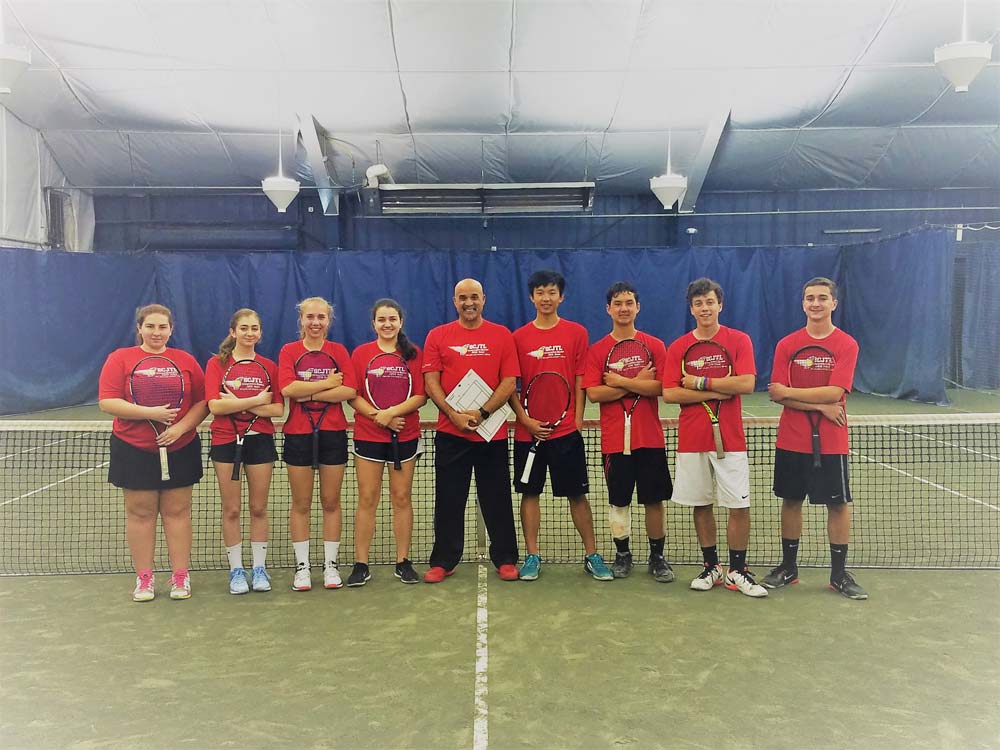 SCJTL Competition Squad placed 3rd in the 2017 USTA Long Island Regional held May 2017.
2016 SCJTL USTA 18U Team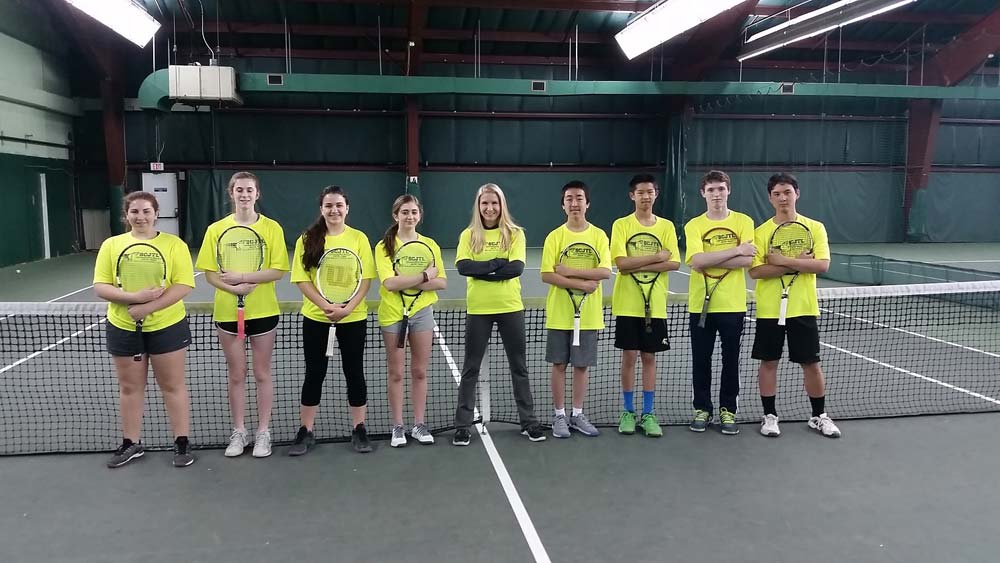 SCJTL Competition Squad placed 3rd in the 2016 USTA Long Island Regional held May 2016.
2015 SCJTL USTA Teams


18U Regional Team - 14U Regional Team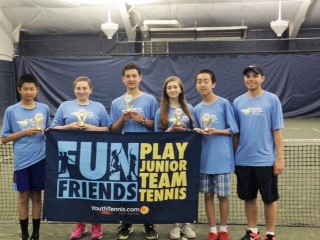 2015 Long Island Regional 2nd Place