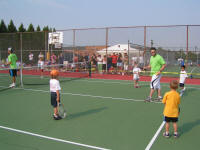 Dates: 7/9, 7/11, 7/16, 7/18, 7/23, 7/25, 7/30, 8/1, 8/6, 8/8, 8/13, 8/15*
*August 15th is GREEN CHALLENGE DAY@ HAUPPAUGE MIDDLE SCHOOL
Program Prices
6 Weeks: $140
Flexible registration for 5 weeks or less. You choose the dates.
5 weeks = $130.00
4 weeks = $120.00
3 weeks = $110.00
2 weeks = $85.00
1 week = $55.00
Try-It-Out = $35*
Registration price is for entire time and includes:
One SCJTL Team Shirt included in registration.
One Challenge Participation Medal per registered player attending Challenge.
Summer Tennis League Locations:
Northport HS
Hauppauge MS <<Challenge Day Site
Sayville HS
Click here for directions to SCJTL sites.
Sessions run at the same time at all sites unless otherwise indicated.
Players play at the same site during the program except on Challenge Day.
*Try-It-Out available after program starts if there is room.
Special level for tots! Highly supervised.
Great first time tennis experience.
USTA 10 and Under Tennis format used.
Players age 7 may choose between Green & Red Divisions.
Click here for Challenge Day information.
Summer Tennis League session includes:
Movement and athletic skill development.
Tennis lesson of the day.
Tennis skills progressions.
SCJTL Challenge Prep.
SCJTL supplies the tennis balls. Players should bring their own tennis racquets, water, wear tennis shoes or sneakers.
Need a tennis racquet or extra shirt?
SCJTL Summer League players may also purchase 10 and Under Tennis racquets and additional team shirts along with program enrollment and receive them on their first day of the program.
(Click here to visit the SCJTL Equipment Site)
Register Here!

Register By Mail

Download Form

Complete

Mail

Register Online

Login/Join
Enroll
Register

Challenge week add-on by current members is available.
To add Challenge week contact SCJTL : 631-590-5019 or Email SCJTL