SCJTL introduces the first Spring Tennis League at Sportime Kings Park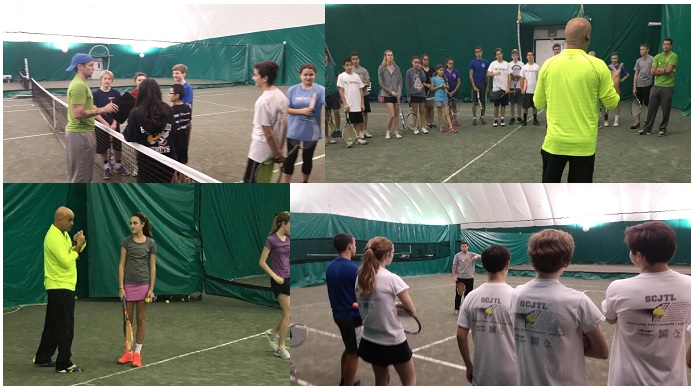 Click here for detailed description of the program.
Dates: 4/8, 4/15, 4/22, 4/29, 5/6

Program Prices: 5 Weeks = $170
Flexible registration for 5 weeks or less.
You choose the dates.
4 weeks = $160.00
3 weeks = $150.00
2 weeks = $120.00
1 week = $75.00
Registration price is for entire time and includes one (1) SCJTL team shirt.
Limited registrations per Division*.
Registration to start March 2018
Try-It-Out available after program starts if there is room.**
**Spring Tennis League Try-It-Out
Try 1 session of the SpringTennis League.
White/Blue Divisions = $50
Want to register for more? Try-It-Out fee deducted from full registration.
After contacting SCJTL: * Enroll/Register Online.
Program shirt not included.
Call: 631-590-5019 or Click here to Email SCJTL.

About the Spring Tennis League:
The Spring Tennis League is an inclusive "Learn, Play,Compete" Experience. New and experienced junior tennis players ages 11 to 18 years old.
Provides Suffolk County kids the opportunity to learn the lifetime sport of tennis while playing on teams in an affordable structured league that emphasizes fun, fitness, and friends. Summer Tennis policy is "no one is left out." The flexibility and inclusion at the core of all SCJTL programs offers something for everyone no matter what degree of interest in tennis.
Low cost, local instruction, combined with "discovery learning thru play" in a peer group environment.
Competition Division.
Middle School , Jr. Varsity Varsity tennis, USTA level 3 and 2 players.
Ideal for players may have played tournament level matches.
players work on competition and tactical skills with their peers on 78' full size tennis courts and yellow (regular) tennis balls.
Friends can play in the same groups together!
Spring Tennis League session activities include:
Agility-Balance-Coordination skill development.
Tennis training theme of the day.
Tennis skills progressions
Skills games - Junior Team Tennis
Court & Site tournaments and matches.
Ladder match play.
USTA Top 10 Games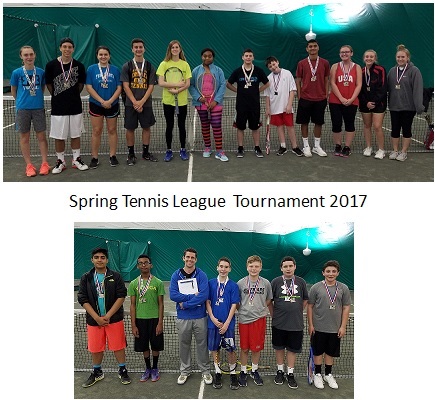 Directed and conducted on-court by:
Joe Arias and Jimmy Delevante
SCJTL Player Development Head Coaches
USTA National Coaches

SCJTL supplies the tennis balls. Players should bring their own tennis racquets, water, wear tennis shoes or sneakers.
Need more info?
Contact SCJTL: 631-590-5019 or Email SCJTL
Need a tennis racquet or extra shirt?
SCJTL Spring Tennis League players may also purchase inexpensive tennis racquets (recommended full size - 27") and additional team shirts along with program enrollment and receive them on their first day of the program.
(Click here to visit the SCJTL Equipment Site)